INNOVAtive marketing agency
Make a difference
Enhance your company and stand out with the expertise of our agency in web and print communication.
Website and online store design
Gain the upper hand
Promote your business and arouse the interest of your prospects by benefiting from a quality website.
Make your service offering accessible on all devices: PC, tablets and mobiles.
Convert as many visitors as possible into loyal customers with an efficient and ergonomic online store.
Web development
SEO, social networks and emailing
Growth and performance
Increase your visibility on the internet, search engines and social networks.
Generate traffic and get more leads to your website with organic, paid and social Search Engine Marketing.
Keep in touch with your customers and prospects by sending automated newsletters and emails.
Digital marketing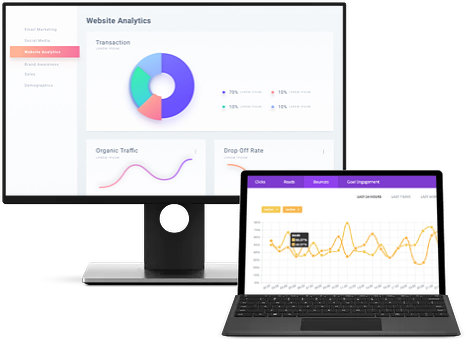 Visual identity, print & web graphics
Colorful design
Differentiate your business : study and design of your visual identity, logo and graphic charter.
Harmonize your communication : variation of your visual identity in web banners, emailing, computer graphics, illustration, photo, video and motion design.
Distribute on all media : creation and printing of signs, banners, business cards, brochures, posters, flyers and promotional products.
Graphic design
Widicom, yes to effective communication
Our communication agency combines graphic design services and efficient web marketing tools. We offer our clients innovative solutions adapted to each project so that they benefit from the best return on investment.
Our goal is to showcase the differences of each company. We set up tailor-made solutions, whether for one-off missions or for long-term support.
We support our clients in creating and delivering a relevant message in order to develop their sales effectively. We are fully committed to our customers, our success is the satisfaction of having contributed to their development.
Innovation
Passionate about digital marketing and web design, we regularly inform ourselves about the latest techniques, trends and tools.
Convinced of the interest of the complementarity of design, technology and marketing, we are associated with partners who are experts in their field.
In search of new ideas, we combine creativity and technique, in order to offer our customers innovative solutions.
Adaptability
We work with various customer profiles taking into account their specificities and needs.
Thus, we support craftsmen, merchants, independents, associations, very small businesses, and SMEs in many sectors of activity.
We make sure that the solutions put in place best meet the expectations of our customers, are consistent with their marketing strategy and integrate with their current tools.
Involvement
For the management and success of each mission, we apply a simple and rigorous method to all stages of the project.
Available, we carry out personalized and regular monitoring, demonstrating responsiveness to meet deadlines.
Studies, analyzes, advice and training punctuate our missions in order to achieve the set objectives.