SEO, SEA, social networks and emailing
Attach importance to the message
Develop and build customer loyalty through digital marketing.
Strategy and growth tools
Our marketing agency supports you in the development of your web communication strategy. Based on your target and goals, we select the most effective means of communication and create content that suits each medium.The goal is to deliver the right message to the right person at the right time.
Web, mobile, social networks, email, phone… The point of running a campaign on different media is to multiply the interactions with your prospects in order to seize as many sales opportunities as possible.
Implementing an omnichannel marketing strategy also allows you to improve the customer experience by better understanding their needs by synchronizing information on different communication channels.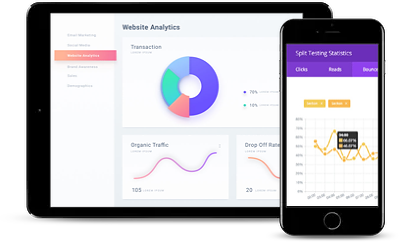 Search engine optimization (SEO)
Sustainably increase your website's visibility to users who may become your customers. SEO is about improving the positioning of your website in search engine results pages related to your activity.We work on SEO on three levels:
Technical design of the site optimized to improve the user experience: speed, navigation, ergonomics.

Editorial content:

semantic analysis and lexical field, production of relevant and optimized content.

Netlinking strategy 

: get quality incoming links to your site, including sharing the right content on the right media (mainly blogs, directories and social media).
Contact us for a free SEO audit of your website.
Search Engine Advertising (SEA)
Make your website immediately visible to potential buyers. As a complement to SEO, SEA means advertising on search engines. Your business ads are highlighted in the results pages and only clicks are paid for.
We support our clients in managing sponsored link campaigns.It is a question of determining the objective of the ad: to be called, to highlight its products or services, to increase brand awareness, to sell online, to increase traffic at points of sale. Based on, we determine which keywords are most relevant to your target, competition and geographic area. We advise on the budget, the distribution network, the writing of ads, create landing pages, analyze the return on investment to put in place adjustments.
Social media optimization (SMO)
Effectively develop interactions with your audience. SMO is a set of techniques to improve your social media presence. The interests of social referencing are multiple: strengthen your brand image, retain and develop your customer base or unite a community. As an integral part of the SEO strategy, social networks are also a good way to increase traffic to your blog or website.
We perform the following services:
Advice on choosing social media based on your audience and targeting the specific recipients of your ads.
Production of content (text, image, video) with a strategy tailored to each medium.
Display advertising and platforms
Diversify your presence on specialized media. Many websites and platforms specific to your business exist to be in contact with potential customers and seize more sales opportunities. We study the market, advise you on which ones may be most beneficial to your business and analyze the results.
Registration on marketplaces: creation of ads and product listings on price comparisons, shops and online quote platforms.
Local search: Automated design and publication of ads in directories and GPS navigation systems.
Display ad management: creating banner ads, selecting blogs or third-party websites related to your business.
Emailing and newsletter
Save time by automating all your email:  special offer, newsletter, welcome, payment confirmation, order follow-up, abandoned order basket relaunch, product suggestions. We support your markting and transactional email campaigns at all stages:
Contact management: precise and tailor-made segmentation according to your own criteria. Creating, updating and compliing with the database. Integrations into web registration forms, e-commerce site, CRM and social networks.
Design of responsive web design emails, customized to each recipient and tailored to different messaging. Advice on targeting according to segmentation criteria, layout and writing effective messages tailored to the audience.
Sending emails and analyzing results: scenario programming (event choice in connection, date, time and frequency of mailings), A/B testing and deliverability tests, detailed statistics.