Branding and graphic design
Design that reflects your business
Stand out with a unique logo and impactful visuals for effective communication.
Illustrate your company
Our communication agency accompanies you in the realization of your visual identity. Widicom takes pictures of your ideas, from their design to their impression. We turn your company's image into attractive and consistent visuals that can be spread on the web and print media of your choice.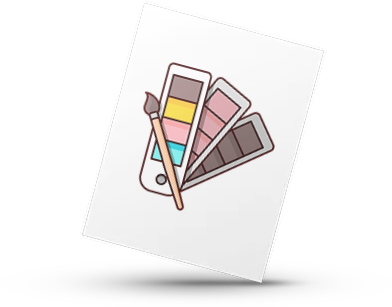 We evaluate your communication needs and objectives, learn more about your business and the image you want to spread in order to establish a project that is consistent with your market, values, positioning and targets. The goal is to define a relevant visual identity and communication media in accordance with your brand image.

Your logo is the foundation of your company's visual identity. It allows you to identify your business immediately and differentiate yourself. We create a unique logo, easily rememberable, adapted to your business and the image of your company.
Our agency works with its clients in the development of a strong visual identity that conveys a unique and positive image of their company. This will define a design style, a logotype, colors and a typography representing the personality of your company.
We develop the graphic charter, a document that defines the codes of your visual identity to be respected and the rules of layout on the various media.

Widicom values the image of its customers through harmonious and quality graphic communication. We create designs that are consistent with your visual identity, available on different web and print media. The aim is to make sense of the message, by telling a beautiful story by transmitting an appropriate image, speech and tone.
Declinations of logo and typography creation
Illustrations for your website and social networks. Learn more
Web banners and newsletter
Production of icons and infographics
Selecting photographs and retouching images
Video production and motion design
Graphic for printing

Make a good impression with attractive advertising materials. You can entrust us with your project from conception to delivery on time. Widicom advises you in choosing the most suitable printing media for your needs and budget: format, quality and quantity.   
Stationery, brochures and business cards

Flyers, promotional products and clothing.
Signs, banners, posters and stickers.